DeSantis is officially entering the presidential race. What are his chances against the great Trump?
Read Time:
6 Minute, 15 Second
On May 25, Florida Governor Ron DeSantis officially entered the presidential race. He made a public appearance in Elon Musk's Twitter discussion room, and with whom he has a warm friendship and political alliance. The broadcast was constantly interrupted because the servers could not cope with the influx of listeners, although indirectly this cannot help but please DeSantis and demonstrates the great interest in his personality. But because of this, the newly minted candidate then had to make an urgent appearance on Fox News, where he again announced his candidacy for president. The Florida governor promised to stop the "decline" of America, regain control of the southern border, which was stormed by illegal aliens, and fight the rise of crime.  
Immediately after the nomination, DeSantis raised $8 million in donations, and cumulatively, DeSantis' donors have given him approximately $120 million over the past year, which is even more than Trump's staff. With that kind of budget, DeSantis could be in the presidential race all the way through 2024, even though he is way behind Trump in the ratings. Trump accumulates the support of up to 60% of Republicans, while less than 20% are willing to vote for DeSantis. The fact that DeSantis regularly has to fend off attacks on his policies in Florida doesn't help his rapid rise in support, either. Almost simultaneously with his nomination, civil rights activists have urged all black and LGBT people not to visit Florida because of laws that restrict the teaching of racial-gender theories in the state. The state leadership's war with Disney, which DeSantis is squeezing out of Florida, also continues. Although DeSantis' chances of winning the primary are not very high, he clearly thinks it is necessary to try to compete with Trump in order to increase his visibility and raise additional finances. In the long run, DeSantis could go as one of the strongest presidential candidates in 2028, when the Trump era is over for whatever election is held a year from now.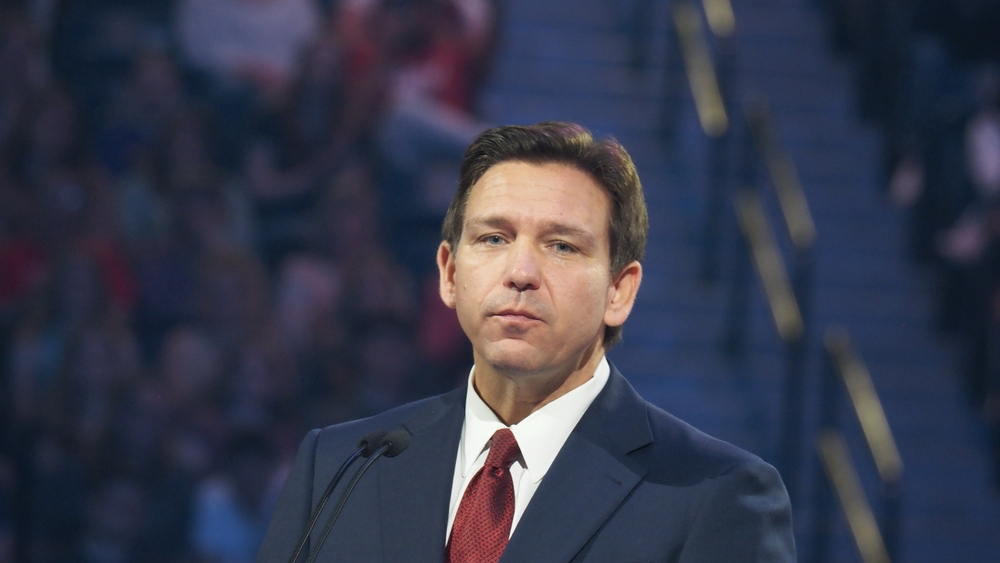 Still, it is a reasonable question whether DeSantis can still make an effort to try to defeat Trump in the current campaign. In part, a serious budget and reliance on more moderate groups in the Republican establishment might help him. In politics, however, money is not everything. Jeb Bush, whose protégé is DeSantis, knows this firsthand. Jeb blew $150 million in the 2016 primaries, but still lost by a landslide to Trump. Meanwhile, supporters of the ex-president are also taking advantage of his second "strength" and aggressively criticizing DeSantis, trying to portray him as a protégé of the Republican establishment and neoconservatives who are trying to get rid of Trump they hate at all costs. In turn, the liberal press rushed to play the "Russian card" against DeSantis. He has been accused of having ties to Ukrainian businessman Lev Parnas, who helped search Ukraine for dirt on Biden in 2019, for which they tried to portray him as a Russian agent. If these trends continue, DeSantis will soon be accused of receiving money from Russia simply because he offers to declare a cease-fire between Moscow and Kiev and stop the Ukrainian conflict.
However, the richest fodder for liberal attacks on DeSantis is not in Russia at all, but in and around his native Florida. He is trying to copy Trump's populist image by pushing an aggressive right-wing agenda in the state of Florida, which is causing many scandals and conflicts, including with the White House. For example, a group of Chinese residents of Florida and a real estate brokerage firm sued the state in federal court over a recently signed law by the governor that restricts the rights of Chinese citizens to buy property in the state and is, in their view, discriminatory. Under pressure from the state government, Disney is also leaving Florida. The corporation is closing its $2 billion Star Wars-inspired hotel, which opened in 2019, explicitly stating that the move has political justification in addition to financial reasons.
Because of this, Disney management is also abandoning plans to build new campuses in Florida, and the current theme parks are under threat of closure. Ron DeSantis directly accuses Disney of promoting LGBT propaganda and is preparing to impose sanctions against it. Also, Florida is now restricting both the racial-gender agenda and LGBT propaganda in all public schools and colleges. Against this backdrop, a teacher is being investigated for showing a Disney cartoon "Strange World" with gay characters to fifth graders. Since then, the poem "The Hill We Climb," which was read at President Joe Biden's inauguration, has actually been banned from reading to elementary school students at the Bob Graham Education Center in Miami Lakes after a parent filed a complaint about it. In his opinion, it distorted U.S. history and promoted hatred of white Americans. It was later posted that the Florida woman whose complaints led to school restrictions for the poem was affiliated with the Ron DeSantis: backed organization Moms for Liberty and the neo-fascist group Proud Boys. DeSantis came under renewed criticism after he stated that he believed that the Federal Bureau of Investigation and even the U.S. Department of Justice were not "independent" agencies and should be subject to the close scrutiny of the President of the United States.  
DeSantis' image was also adversely affected by his work on the island of Cuba. Shortly before his nomination, he was at the center of a scandal involving details of his work at the Guantanamo Bay base, where he served as a lieutenant and military lawyer in 2006. Suddenly, an interview from 2018 surfaced where DeSantis, describing his work at Guantanamo, said that the military lawyer's tasks included choosing what could be applied to prisoners. In particular, the lawyer decided whether soldiers had the right to force prisoners to consume food. Guantanamo prisoners have repeatedly gone on hunger strikes demanding better conditions. In these cases, U.S. soldiers tied them to a chair and put a tube up their nose, through which they pumped protein mixtures into the prisoners' stomachs against their will.
DeSantis now says in his defense that he was a junior officer at the time, and did not decide on the measures against the prisoners. Moreover, DeSantis denounced the measures used against the prisoners at Guantanamo, where they were subjected to "water torture" and other torture. Of the 780 prisoners who went through Guantanamo, only 11 were charged. During the Obama era, they began to be gradually released, but there are still 31 prisoners held at Guantanamo. In 2014, the Senate released a report acknowledging human rights violations of the Guantanamo prisoners. American attitudes toward what happened at Guantanamo today are unequivocally negative, and DeSantis' role in these events could play against him in the election. Nor does the current ambivalent situation around Ukraine help him, with DeSantis trying to combine an aggressive focus against Russia with unwillingness to involve the United States in a direct conflict. This has already had an impact on the dynamics of the presidential race, with DeSantis' approval ratings sagging and Trump surging ahead, securing the lead in the primaries. Today he faces only a respectable second place, but in the future his tough and intransigent stance on the "progressive" agenda could make him an idol of the entire conservative electorate, which increasingly hates liberals and leftists. However, this, as we have said, is more a matter for the distant year 2028.