Biden trades off the problems of millions of freezing Americans against a vacation trip to his favorite "corrupted" Virgin Islands
Read Time:
5 Minute, 53 Second
We recently came across information that back in 2020, a lobbyist with close ties to Joe Biden bought property in the Virgin Islands from Biden's brother James, and then he provided a "private loan" to a relative of the president. At the time, it was obvious that another member of Biden's family was simply cashing in on his relative's status by pulling off another corrupt scheme. However, the year 2022 showed that it was not a coincidence that this property was located in the Virgin Islands. This "overseas" U.S. Caribbean territory has become not only a vacation spot for Joe Biden, but also a favorite place for financial machinations of his various commercial partners. Obviously, Biden's trips to the Virgin Islands were not always a vacation in the usual sense of the word. And to pay attention to this geographical predilection allowed, paradoxically, the severe bad weather that came between Christmas and New Year's.
The Christmas season in the U.S. this year was marked by the heaviest snow storm in 50 years. Temperatures in the Northeast and Midwest fell to -20°C and broke historic records. Snowdrifts in some regions reached up to 2 meters high. Across the country, more than 100 people have died from the cold or under snowdrifts. New York Governor Kathy Hochul even compared the situation to a war zone, and authorities in many states urged people to save gas and electricity. These appeals have not been done in vain because one and a half million people faced power outages. Moreover, one of the largest power systems in the United States, PJM Interconnection, risked a power outage in the event of prolonged bad weather, which could leave some 50 million people without electricity and heating.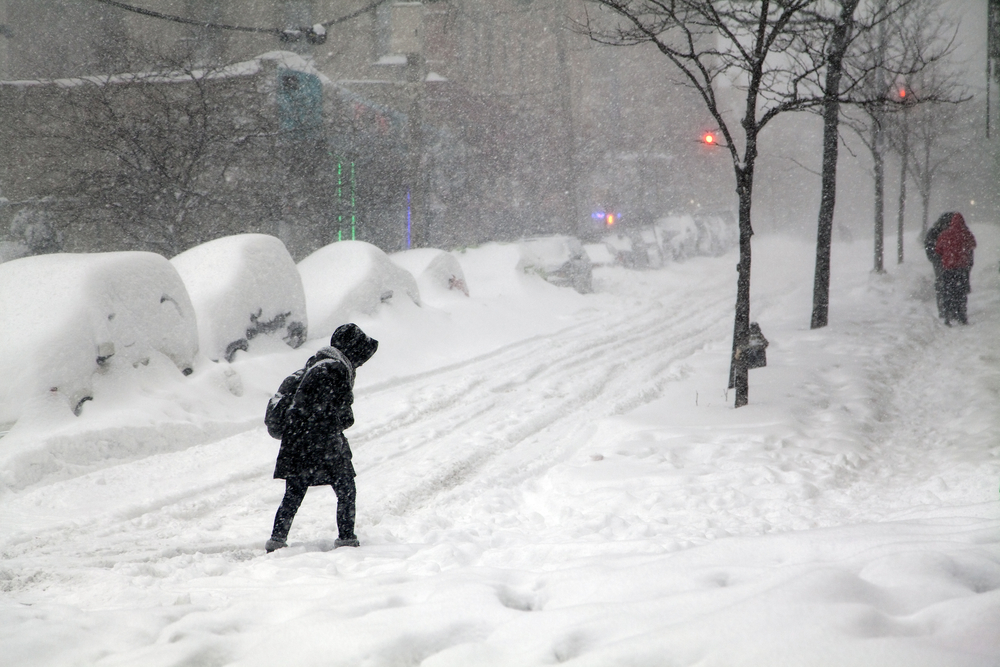 In the midst of this serious climatic trouble, as usual, inadequate voices were heard. The liberal media immediately explained that what was happening was because of "global warming". According to these advanced "environmentalists," any extreme weather conditions, whether hot summers, cold winters, tsunamis, or snow storms, should force people to give up their cars, gasoline engines, and gas heating as soon as possible. It is true that they did not have an adequate answer to the question of how to use an electric car in the face of rolling blackouts. On the economic front, the snowstorm caused a record 10% collapse in U.S. gas production, while gas consumption rose sharply. Now gas exports to Europe are at risk of being disrupted as well. Governors of many U.S. states have been calling for restrictions since September and with the current weather anomalies they have yet another reason to demand that Biden adopt energy protectionism.
It may have been that in such critical conditions for U.S. citizens, the economy and his own image, Joe Biden should have been really busy dealing with the aftermath of the snow storms. However, despite the flood of criticism, it was at this very moment that the U.S. president decided to take a vacation to the Virgin Islands in the Caribbean, where the weather was sunny and hot, unlike the freezing cold states. What is even worse is that before he decided to there, he flatly refused to visit the northern U.S. states, which were hit hardest by the snow storm. Paradoxically, it was the "democratic" liberal states that were hit hardest by the storm. In New York, for example, it was the strongest snowstorm in the last 100 years, and the disaster was not limited to the weather, but led to a massive increase in crime and shoplifting.
Furthermore, during this period, Biden's troubles were not limited to weather phenomena. Another crisis was related to the uncontrolled flow of migrants storming the U.S. Mexican border. During the two years of Biden's presidency, 5 million illegal immigrants have already managed to cross it, and then Republican states like Texas and Florida are sending migrants by thousands to liberal metropolitan areas. Illegals are specifically brought to the residence of Kamala Harris and other Democratic politicians, trying to get them to somehow address this crisis. However, the Democrats only respond by calling the Republicans' actions "inhumane" and they continue to ignore the migration crisis.
And yet, Biden chose relaxation over action. Statistically, Biden spent 40 % of his time as president on vacation. For all his endless reservations and erratic behavior, this raises more and more questions about his ability to handle the next presidential election he is running for. Polls show that two-thirds of Americans would not want him to run for a second term, and with Biden's negligent attitude toward the presidency and the pressing woes of Americans, their share will only grow. Although, upon closer examination, there is a kind of "justification" for Biden's trip to the Virgin Islands, though it is highly questionable from an ethical point of view.
More recently, a Virgin Islands prosecutor filed charges against JPMorgan, one of Wall Street's largest banks, alleging ties to billionaire pedophile Jeffrey Epstein. Jeffrey Epstein ran his operations through JPMorgan and the bank was aware of the scale of the child prostitution industry he created, but the bank preferred to turn a blind eye and make money from the partnership with the billionaire. Epstein is being prosecuted in the Virgin Islands, because that is where he had a private island where endless orgies were held. However, the local authorities did not like such activity, and the prosecutor was immediately sent out of office. As luck would have it, Joe Biden was in the Virgin Islands at this very moment, spending a vacation away from the winter storm that hit the United States. Epstein had once been a great benefactor of the Democratic Party and Biden was immediately suspected of being behind the eviction of the local prosecutor.
Epstein's service to the Democrats and to Biden personally could have been great and miscellaneous. Bill Clinton was a regular guest at his "parties", and Epstein's former friends were employed in the Biden administration. The Democrats have close ties with JPMorgan Bank, which actively donates money to their party and criticizes Republicans who challenged the results of the 2020 election. At the same time, this bank is one of those structures which impose an aggressive "green" agenda in the United States, and therefore is already under investigation in 19 Republican states. To say nothing of the fact that Hunter Biden's shady business operations were carried out through JPMorgan. In this perspective, any investigation into JPMorgan and Epstein could really make Democrats unhappy. They have long hoped that Epstein would be forgotten, but he is still, even three years after his death, still haunting the "good name" of the Democratic Party. Considering all these facts, Biden's trip to the Virgin Islands does not look like his vacation, nor does it look like a pointless neglect of the victims of a cold hurricane… Except that his practical purposes are hardly related to the work for the benefit of the citizens of the United States, which any president should conduct.