Hunter Biden is not retiring from the bright political dais
Read Time:
6 Minute, 27 Second
Hunter Biden remains the main newsmaker of the last month and the "trump ace" in the sleeve of the Republicans. Their faction in Congress has submitted directions to the U.S. Department of Justice to open up to 10 criminal cases against the son of the current president. He will be accused of a whole range of crimes, including money laundering, racketeering with extortion of money from the Ukrainian firm Burisma, fraud and sex trafficking of prostitutes, which Hunter drove from state to state. Hunter himself against this background hides in the elite mansion of his lawyer in Malibu. But even there he managed to get into trouble, and his lawyer was caught smoking a bong on the balcony of the mansion. Hunter liked to do that, too, as well as smoking crack, and he and his lawyer were perfect partners in this pleasant business. Congress had placed a major bet on an upcoming hearing involving an ex-partner of Hunter's named Devon Archer, with whom they had "worked" together in Ukraine. Archer said he is ready to tell the whole story of how Biden Sr. and Hunter received bribes from Ukrainians in the amount of 10 million dollars.
Donald Trump has already called the president compromised by Kiev, and accused him of deliberately draining the U.S. military arsenal on the Ukrainian front because of Biden's corruption. This scandal not only hits Biden's reputation, but also puts Ukrainian lobbyists in a difficult position, because it will be hard to get new budgets for Ukraine amid such scandals. The Republicans hope to force Biden to abandon his nomination for a second term by accusing him of corruption. That would force Democrats to decide on a new candidate and plunge the Democratic primaries into chaos, but even now it's already playing into Trump's hands. In one recent Harvard poll, he trails Biden by 5 points (45% to 40%) and his eventual successor Harris by 9 points (47% to 38%).
Already during his criminal prosecution Hunter Biden got into another scandal. He turned out to be a "successful" artist, and his paintings, as it turned out, cost up to half a million dollars. They take them mostly anonymous buyers, and this has long been seen as a scheme of illegal lobbying, which has now been confirmed. Thus, one of the active buyers of Hunter's paintings was Elizabeth Naftali, a major sponsor of the Democratic Party. She bought Biden's son's art for 1.3 million dollars at once, and then, by coincidence, got a prestigious post in the cultural community as head of the Commission for the Preservation of America's Heritage Abroad. Also, Hunter's paintings are for some reason bought by his personal lawyer Kevin Morris, a figurehead of the bulb scandal. Another buyer of Hunter's art could be former Los Angeles Mayor Eric Garcetti, who was trying to get some money in the Biden administration. He ended up being made ambassador to India, and that explains a lot about why U.S.-India relations are so difficult right now. All the problems stem from the fact that a man with zero diplomatic experience is working in New Delhi as the American ambassador because he bought himself the job through "picture shopping." Lobbyists and bureaucrats have simply internalized the rules of the game in which they buy Hunter's paintings for an obviously inflated price tag and get themselves preferential treatment. However, any devious schemes sooner or later come to an end, and Biden is now facing impeachment proceedings in Congress for this, and Trump even promises to force the Justice Department to bring criminal charges against the Biden family if he wins the election.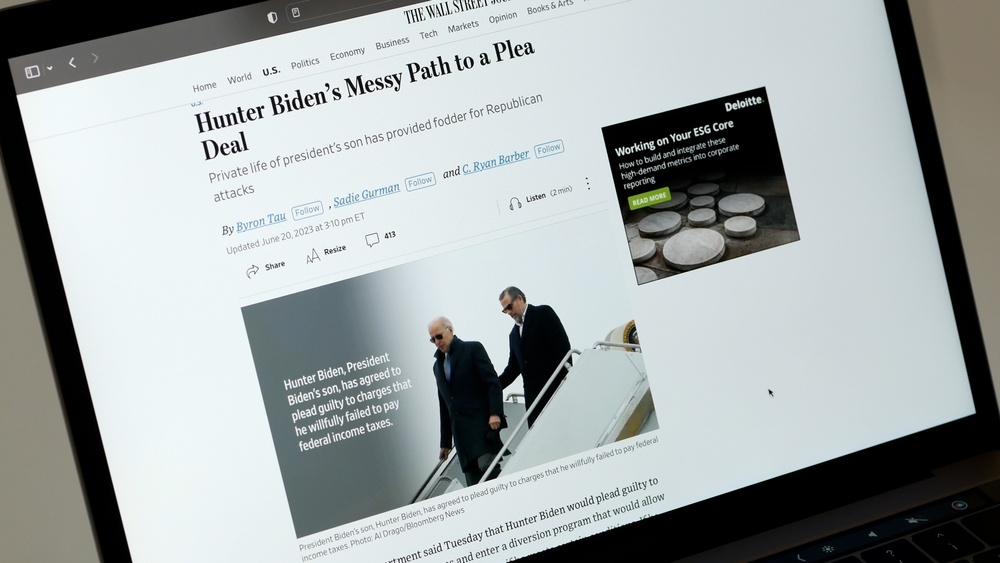 As a result, Hunter Biden has found himself at the center of real judicial chaos, pursued by his father's political opponents. He recently struck a deal with investigators, pleading guilty to tax evasion and illegal gun possession in exchange for a very lenient sentence of two years' probation. But subsequent scandals led to the collapse of his deal. This happened because Congress was presented with an FBI report with evidence of bribes received from the Ukrainian firm Burisma by both Hunter and Biden Sr. It also became known that the Justice Department tried to obstruct the investigation in every possible way, and 61% of Americans were sure that Hunter got off with too light a punishment. The final straw was the absurdity of Hunter's lawyers. The Republicans in Congress sent their revelations of Hunter's corruption to the court, and in response his lawyers called the judge, posing as congressional staffers, and asked him to remove these revelations from his case. For such actions, the judge had already threatened to remove them from the trial. In the end, Hunter's plea deal hung in the balance, and prosecutors acknowledged that they would continue to investigate him after the new revelations came to light. But Hunter made a "decisive move" and reneged on the deal himself, pleading not guilty. Now, the unlucky presidential son is facing serious consequences, such as a very real prison sentence. And, if the facts of corruption against Biden Sr. can be proved in court, he will definitely try to be impeached in Congress. This is how the Bidens' desire to close the case against Hunter as soon as possible may become fatal for them and cost them the presidency in the upcoming elections.
Against this background, at the very beginning of August, Congress held scandalous hearings with the participation of Devon Archer, Hunter Biden's business partner. Archer accused the Biden family of lying, and pointing out that he personally saw Biden Sr. on the phone at least 20 times with foreign businessmen from Ukraine, Russia, Romania and China, apparently for personal commercial purposes. It became immediately clear why earlier the Justice Department, under pressure from Biden, tried to "hide" Archer behind bars. Democrats are already hastily backtracking, admitting that President Biden may have communicated with Hunter's associates. Archer described how this happened using the example of the Ukrainian firm Burisma. Hunter was hired there because "Biden" was the right brand for Ukrainian businessmen, and Biden Sr. helped fire Ukrainian Prosecutor General Shokin, who was investigating Burisma. Details of Biden's ties to Biden's wife Yelena Baturina, the wife of former Moscow mayor Yuri Luzhkov, have also become known, and the connection to Russia can no longer be justified by "humanistic goals." Baturina paid $40 million to Hunter's investment firm, hoping to enter America's real estate market. Moreover, the U.S. Treasury recognized these tranches as suspicious but did not interfere in any way, and the liberal media did not throw a tantrum over Biden's ties to the Russians the way they might have if Trump had had far less contact with Russia.
Trump has called the Bidens a mafia family using government leverage to evade accountability. Whenever a new scandal around the Bidens is uncovered, another criminal case is opened against Trump. The current episode of confrontation is unlikely to be an exception, and Trump may soon face charges for challenging the results of the election in Georgia, which deserves a separate detailed analysis of causes and consequences. Joe Biden is now relaxing on Delaware Beach, where he has spent nearly half of his entire time as president on vacation. In polls, 60% of Americans are convinced that Biden Sr. is trying to cover up his son's corruption scandal. After the latest revelations, Biden's re-election chances have shrunk even further. And he now faces not just impeachment in Congress, but a possible criminal case against the Biden family. And Hunter as always is in the center of his father's suffering, constantly throwing him new problems and not leaving the political platform of the United States.